After photoionisation, there is a finite probability the ion will remain in an excited state with an energy a few eV above its ground state due to excitation of the ion by the outgoing photoelectron.
As a consequence of this, the kinetic energy of the emitted photoelectron is reduced and secondary structure will be seen at higher binding energy (c.f. lower kinetic energy) and termed a shake-up satellite peak. An example for the Cu(2p) core-level for Cu(II) in CuO is shown below.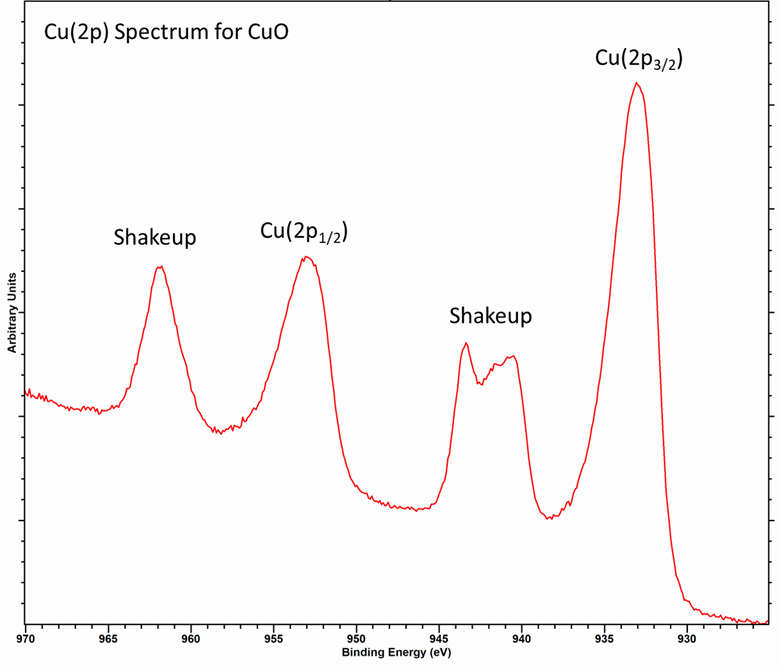 For transition metals, such as Cu, the shake-up can be described as a strong interaction of the finals state which involves significant ligand-metal charge transfer which results in an extra 3d electron compared to the initial state. For CuO, this shake-up involves a 3d electron resulting to a 2p5 3d9 electron configuration.
Shake-up lines can be used in a diagnostic manner to facilitate different chemical states of the same species, for example Cu(II) in CuO and Cu(OH)2, which may be differentiated through the intensity and shape of the satellite structure. These are particularly useful in the analysis of Fe, Co and Ni materials. Shake up lines are common in paramagnetic states.
Further Reading