Photoionisation cross-section calculator may be found at the Elettra sincotrone website.
Questions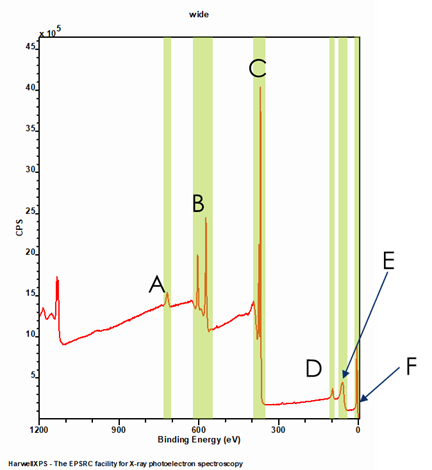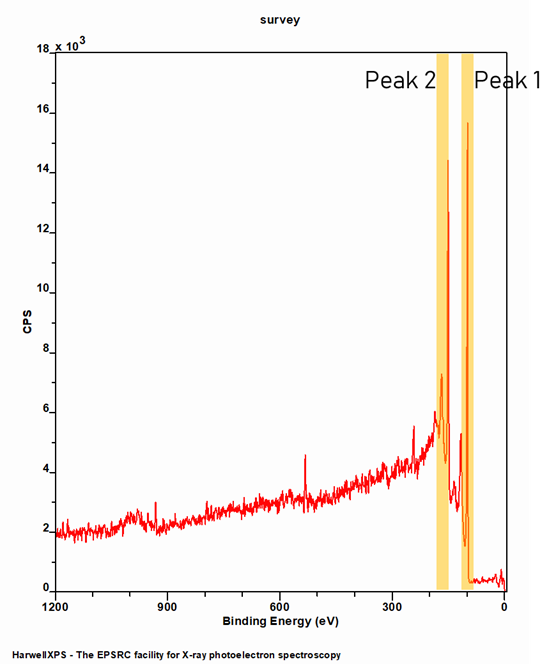 1: Above are two XPS spectra (Figures 1&2), one from Ag metal, one from a Si foil. Identify which spectra is which based on how many core orbitals you expect to observe.
2: Based on the electronic structure of Ag, determine the orbital identity of the peaks labelled A, B, C, D and E
3: Which orbital would you expect to find in the region marked F?
4: Assuming all instrumental factors are constant, and sample is homogeneous – which peak in an XPS spectrum would you expect to be larger given equimolar concentrations of lithium and chlorine and an excitation energy of 1000 eV? Li 1s or Cl 2p? Hint: use the photoionisation cross-section calculator from Elettra sincotrone.
5: Copper metal was determined to produce a Cu 3s peak of highly Lorentzian character and a FWHM of 2.27 eV (Figure 3). What do you think is the dominant cause of the peak broadening in this example?
We will continue onto our next session, which will look at the factors affecting peak binding energy and how we can use these to determine chemical identities. We will also learn about 'Auger' peaks.
Further Reading
Electronic structure in solids – definitions (by HarwellXPS)
X-ray Photoelectron Spectroscopy (by Thermo Scientific)
Transcript