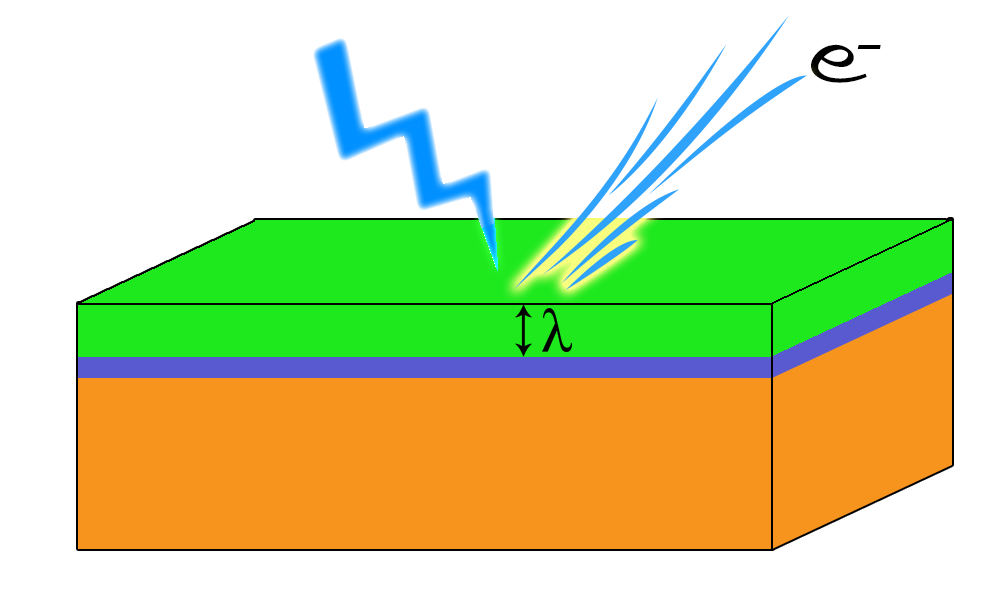 The inherent surface sensitivity of XPS results in an ideal probe for the determination of nanocomposite proportions in the Z-dimension. One well known method for the determination of chemical gradients and path lengths on a relatively large scale is that of ion bombardment, though this is often not suitable for disordered powder samples or small path lengths (~10 nm). Angle-resolved XPS also represents a methodology to approaching this challenge, however it is again less suitable for powder samples unless using specialised equipment such as the Thermo Thetaprobe (access available through HarwellXPS).
Facile methods to determine overlayer thicknesses using standard, lab-based XPS alone comes in numerous forms, each with inherent advantages and disadvantages and here we will outline a few of these.
Strohmeier equation
The Strohmeier equation is one of the simplest methods for determining an overlayer thickness. All that is required is a single XPS spectra and the related IMFP (a useful tool for calculating IMFPs has been developed by Sven Tougaard and released free of charge – available at QUASES-IMFP-TPP2M).
Take for example, an aluminium oxide overlayer (Figure 1). The relative proportion of oxide to metal peak may actually permit a simple calculation of an overlayer thickness, of course working on the assumption that said overlayer is uniform.
With our relative percentage areas of metal (Im) and oxide (Iox), along with the IMFP for metal (λm) and oxide (λox), the take-off angle (θ) and the volume densities for metal/oxide (Nm/Nox) we may calculate path length, d.(1)
The volume densities may be calculated using equation 2, where MR is molar (or atomic) mass and ρ is the density.
This method is typically limited to singular metal/oxide systems. For more information, see our technical document.
Thickogram
The thickogram (Figure 2) is a graphical method for the determination of film thicknesses by XPS, developed by Peter Cumpson whilst working at NPL.(2)
This method is very straightforward and only requires the integrated peak areas of the substrate/overlayer (Is/Io), the IMFP through the overlayer (λo), the RSF and Ek of the peaks involved and the emission angle (0 for a 90o take-off angle ∴ Cos(θ) = 1).
Due to the graphical nature of this method, there may be a certain degree of experimental error involved. Alex Shard and colleagues developed topofactors to improve the accuracy of this method accounting for non-planar samples.(3) For more information, see our technical document.
Photoelectron attenuation
The attenuation of photoelectrons through a solid may be described using equation 3, where I1 = final intensity, I0 = initial intensity,
λ = IMFP, θ = emission angle (0) and d = path length.

A crude method for determining overlayer thicknesses if one has corresponding spectra of a pure substrate as well as the substrate + overlayer is to simply use the decrease in intensity of the substrate peak along with a known or calculated IMFP. A graphical representation of this can be seen in figure 3, in which conformal layers grown onto mesoporous silica were measured using this method by the Adam Lee and Karen Wilson group. This method assumes heterogeneous coverage of the overlayer and contaminant layer and consistent X-ray beam power, spot size and chamber pressure. For this reason it would be advised to record all spectra in the same experiment. The resultant film thicknesses were in good agreement with pore shrinkages determined from N2-adsorption porosimetry and low angle XRD.
Taking this method slightly further, the use of twin X-ray sources (e.g. Al and Mg) permits one to disregard the initial intensity (aka substrate peak) and determine shall thickness of a single sample based on the different IMFPs resulting from excitation from different energy sources. Since I0 is equal in both cases, simultaneous equations permit a new expression for calculating path length from percentage areas determined using the 2 X-ray sources (equation 4).

This method found good agreement across a small size range with a number of complimentary techniques, including electron microscopy and XAS.(5)
The same principle may be applied to 2 photoemissions of the same element within the substrate at different kinetic energies, since these will also have different IMFPs. A more robust interpretation of such data handling has been developed by Alex Shard, to account for a multitude of sizes, shapes and topologies.(6)
QUASES Tougaard
Sven Tougaard developed a methodology (and subsequent software) for overlayer analysis based on his background model, the Tougaard background. This background provides a robust theoretical model for inelastic background scattering events in XPS spectra for those trained in it's application.(7)(8)
The QUASES-Tougaard method not only provides information regarding overlayer thickness, but may also provide insight into surface topology via graphical depiction, making it the most advanced tool discussed here (Figure 4).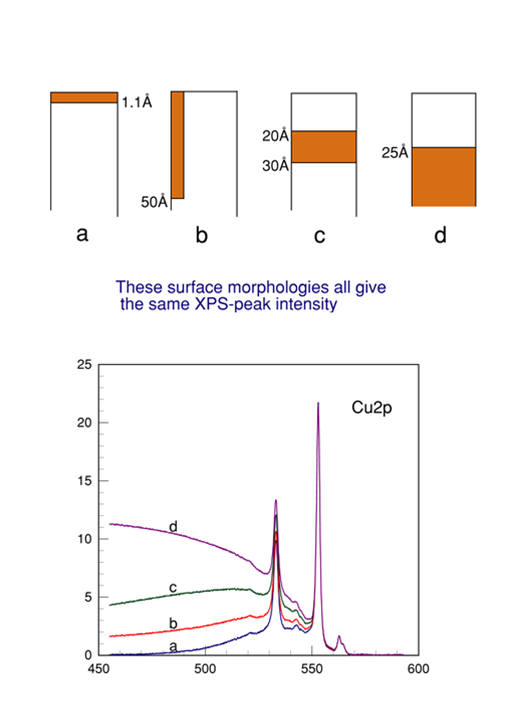 For a complete overview of the QUASES-Tougaard method, see the product page at QUASES-Tougaard.
References