Not to be confused with Angle-resolved photoemission spectroscopy (ARPES), angle-resolved XPS (ARXPS) is a technique which varies the emission angle at which the electrons are collected and in doing so, enabling electron detection from different depths by exploting the inelastic mean free path (IMFP) of the photoelectrons.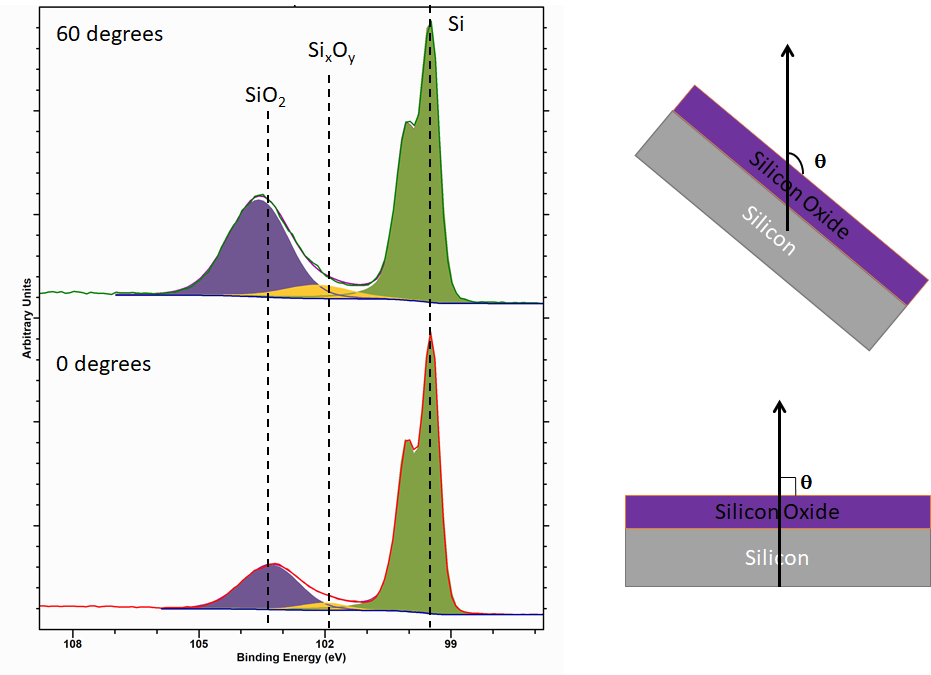 ARXPS is especially useful as it provides non-destructive information about the thickness and composition of very thin films which are not suitable for sputter depth profiling and also materials (e.g. polymers) which may be irreversibly damaged by argon ions.
An excellent introduction to ARXPS is given by Royston Paynter [1] together with a Mathematica Workbook in the Supplementary Information.
ARXPS measurements are realtively simple to perform. XPS data is collected at a series of angles, typically from 0° to 75° photoemission angle. Five or six angles are usually sufficient and Cumpson [2] has recommended acquiring data at 0°, 40°, 55°, 63° and 70° for materials such as polymers which exhibit weak eleastic scattering, and 0°, 33°, 45°, 54°, 60° for samples containing elements of larger atomic number (e.g. an iron alloy), where elastic scattering is stronger. Performing measurements at these angles concentrates the data acquisition at the higher photoemission angles, where the analysis is most sensitive to the sample surface.
ARXPS can give information therefore on :
Ordering of layers in an ultra-thin film [3]
Thickness of layers [1-3]
Distribution of elements and chemical states within the film (depth profile reconstruction) [3]
Links and downlolads for specialist software for ARXPS analysis and be found in our software section.
References
[1] R.W. Paynter, An ARXPS primer, J. Electro. Spec. and Relat. Phenom., 169 (2009) 1-9. Read the paper here: https://doi.org/10.1016/j.elspec.2008.09.005
[2] P. J. Cumpson, Angle-reolved XPS and AES: depth-resolution limits and a general comparison of properties of depth-profile reconstruction method, J. Electro. Spec. and Relat. Phenom., 73(1995) 25-52. Read the paper here: https://doi.org/10.1016/0368-2048(94)02270-4
[3] C.R.Brundle, G. Conti, P. Mack, XPS and angle resolved XPS, in the semiconductor industry: Characterization and metrology control of ultra-thin films, J. Electro. Spec. and Relat. Phenom., 178-179 (2010) 433-448. Read the paper here: http://doi.org/10.1016/j.elspec.2010.03.008