As is well known by those who have even a cursory knowledge of XPS it is a surface technique, and the depth of information is limited to typically around 10 nm (when using an aluminium X-ray source). In order to probe deeper into a sample we could use a more energetic X-ray source, however these are not often found on commercial instruments and come with other unique challenges.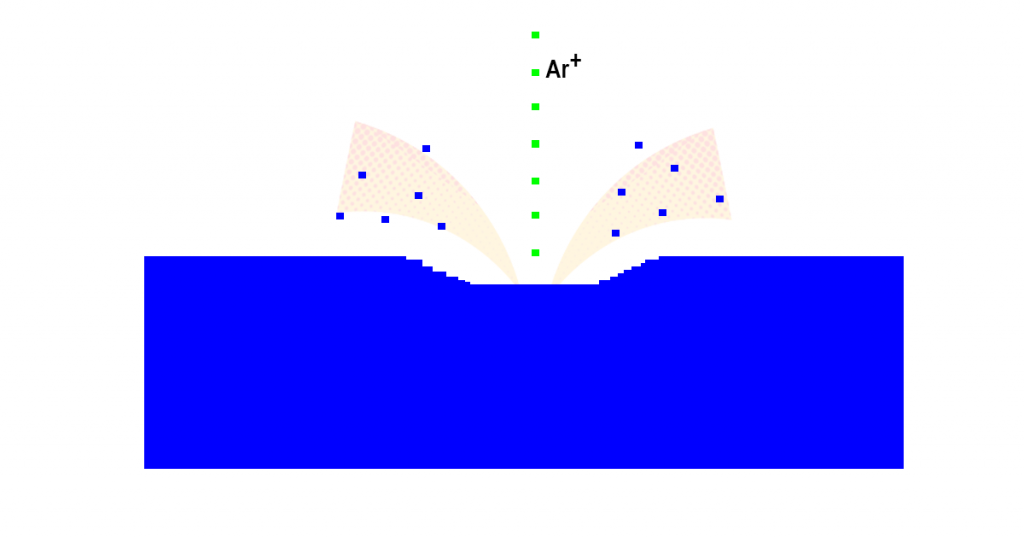 A common technique by which to probe the chemical or elemental gradient as a function of depth into a sample is the use of an ion beam to bombard the surface and remove layers of atoms. One major advantage of this is the ability to obtain slices of information in blocks roughly the size of the information depth of your sample/chosen X-ray source. Ar+ ions are the most frequently used for this technique. After repeated etching and XPS analysis cycles, one may build what is called a 'depth profile' (Figure 1).
This technique has drawbacks, one is the possibility of a poor resolution due to a non-uniform sputtering via cratering or preferential sputtering (e.g. oxygen in metal oxides). Furthermore, ion bombardment has the potential to chemically reduce samples, rendering chemical speciation profiling non-trivial. Finally, to convert sputtering yield or time into a tangible unit of distance, a calibration sample is needed which introduces a fresh source of experimental error.
Gas cluster ion bombardment is a form of depth profiling which utilises an etch/analyse cycle, similar to that of monatomic ion beam etching. Gas cluster etching permits analysis of organic materials which are rapidly chemically degraded by monatomic ion etching.
References
Drosos, C., et al. (2018). "Aerosol-assisted chemical vapor deposition of V2O5 cathodes with high rate capabilities for magnesium-ion batteries." Journal of Power Sources 384: 355-359. Read it online here.