All air exposed materials will contain a thin layer of carbonaceous material, typically referred to as adventitious carbon. It is prudent to always record the C(1s) line on your samples as an internal reference point (See later)
The exact nature of such carbon has been debated over the years, with early studies in old UHV systems containing oil-based diffusion pumps deemed responsible for the carbon. Later studies have suggested that the carbon is typically comprised of polymeric or short-chain hydrocarbons, with C-O and C=O functionalities, such as that shown below.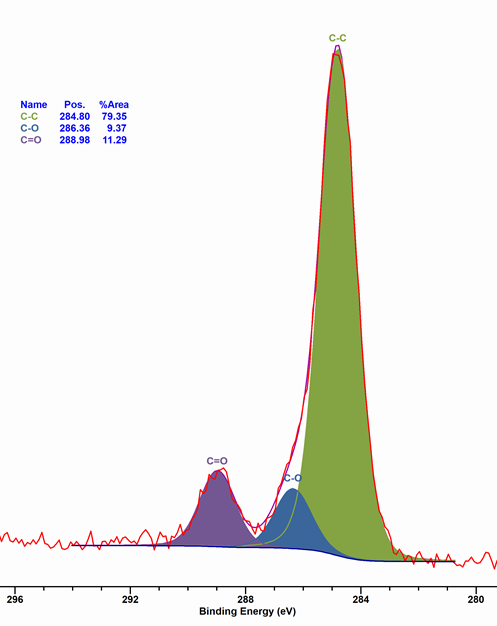 Charge Referencing
As carbon is present on samples inserted in to the XPS spectrometers, it allows for a convenient charge referencing point for insulating samples, typically by setting the value of the main C(1s) line to 284.8 eV. For polymers, the choice of 285.0 eV is more common.
However, this method whilst widely used is not without problems. For example, values of the C(1s) line may range from 284.5 to 285.0 eV for calibration in papers, but equally the measured binding energy of the carbon can change with the workfunction of the substrate and therefore affect the carbon and the 'true' C(1s) value may be as high as 285.4 eV in some cases.
Further Reading